ICYMI: All 25 Democratic AGs Speak Out on Rise in Hate Crimes Towards the API Community
April 1, 2021
Dem AGs Take Leadership Role in Taking Action and Continuing the Conversation
Across the country, individuals, community leaders, and elected officials are condemning and calling attention to the increase in Anti-Asian hate crimes following the mass shootings in Atlanta, Georgia that left eight individuals dead, including six women of Asian descent.
In an effort to combat anti-Asian hate across the country, Democratic AGs are spotlighting and supporting the Asian Pacific Islander (API) community by continuing their long-standing commitment to combating hate crimes. Two recent Democratic AG actions include:
District of Columbia AG Karl Racine

, as the President of the National Association of Attorneys General (NAAG),

announced

that his "presidential initiative" will focus on combating hate crimes and addressing extremism during his year-long term. AG Racine said, "Given the clear increase in hate ideology and hate offenses — particularly over the last four years — the moment was right to put this weighty issue on the table. If we can get 56 attorneys general to make a pledge to stand up against hate, I think that's massively significant." Part of AG Racine's "presidential initiative" includes calling on state attorneys general to commit to asking for more resources to collect hate crime data, and to ensure that it is sent to the FBI. Outside of his role as NAAG President, AG Racine has taken action to address hate crimes in DC, like introducing legislation to the DC Council empowering his office to bring civil charges against those who commit hate crimes and other bias-related offenses.

Connecticut AG William Tong,

the first Chinese-American to be elected to the office of state Attorney General in U.S. history, is pursuing legislation that would broaden his office's power to pursue civil penalties for hate crimes. Previously, AG Racine and AG Tong wrote an

op-ed

calling on leaders to step up and fight back against hate. In the op-ed, AG Racine and AG Tong shared their personal experiences facing discrimination, stating that "communities, policymakers, and law enforcement officials must sprint to confront hate."
Following the mass shootings in Atlanta, Democratic AGs have continued to speak out against attacks on the API community and have taken on leadership roles both nationally and in their respective states:
Connecticut AG William Tong

spoke

to CNN's Poppy Harlow and Jim Sciutto about the rise in hate crimes against the API community. AG Tong

said

, "People are surprised to hear about anti-Asian hate. They don't know the legacy of the Chinese Exclusion Act. The beating death of Vincent Chin. And the internment of 125,000 Japanese American citizens in camps on American soil." Last week, AG Tong also participated in a

community event

with the Mayor of New Haven, Justin Elicker, and Ketkeo Rajachack, owner of Pho Ketkeo.
New Jersey AG Gurbir Grewal

hosted Connecticut AG William Tong to

discuss

how to combat bias and hate towards the API community. In the conversation, they discussed the 150% surge in bias incidents against the API community, former President Donald Trump's rhetoric and actions, and strategies to address these issues.

Virginia AG Mark Herring, Connecticut AG William Tong,

and District of Columbia AG Karl Racine held a

panel

where they discussed the actions and steps they are taking to combat the rise in hate against the API community. AG Herring highlighted his new "No Hate VA" website that serves as a centralized source with resources and information about hate and hate crimes. AG Herring said, "We in Virginia are all part of [the] Virginia family. Everyone is apart, no matter what you look like, where you come from, how you worship, or whom you love. You are a part of our Virginia Family."
And this week, Democratic AGs have continued holding conversations focused on actions they and other elected officials can take to protect communities being targeted:
DAGA Co-Chair Nevada AG Aaron Ford

hosted

a "Stop The Hate" town hall with Connecticut AG William Tong and California AG-appointee Rob Bonta to further discuss the rise of hate crimes against the API community and actions that can be taken.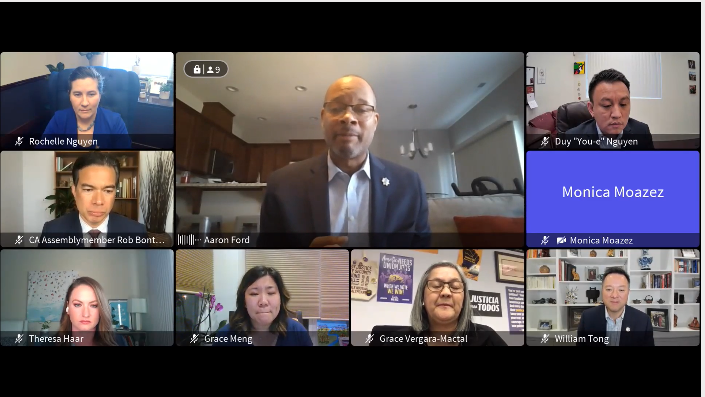 DAGA Co-Chair Massachusetts AG Maura Healey

hosted a "Hate Crimes in Massachusetts" discussion centered around action that can be taken in the Commonwealth, both by her office and the state legislature, to combat the rise of hate crimes.

New York AG Tish James is holding a conversation on April 1 with New York Congresswoman Grace Meng, and community leaders and organizations about the rise in hate crimes towards the API community and actions that can be taken to stop them.
Democratic AGs will continue to speak out and take action against the rise of hate crimes across the country. Finally, Democratic AGs commended President Biden, Vice President Harris, and Attorney General Garland for speaking up, and taking swift action this week – a welcomed change from the previous administration.
For more on what Democratic AGs are saying about the rise in hate crimes across the country and the Atlanta shootings read below: