UPDATE #8: DEMOCRATIC ATTORNEYS GENERAL LEADERSHIP IN ADDRESSING COVID-19
May 4, 2020
Democratic AGs Taking Necessary Steps to Protect the People
As millions of people face health and fiscal challenges related to COVID-19 and many communities struggle to address testing needs and a lack of protective equipment for medical professionals and others on the front lines, Democratic AGs continue to fight for their communities.
Here are some key updates on how Democratic AGs are fighting for the people in their states this week:
PROTECTING MAIN STREET
This week, Democratic AGs continue to fight for consumers during the COVID-19 crisis.
Delaware AG Kathy Jennings

and

United States Attorney David C. Weiss

announced

the formation of a new COVID-19 Anti-Fraud Coalition aimed at better protecting Delawareans from criminal and civil fraud

tied to the pandemic.

New York AG Tish James

and Pennsylvania AG Josh Shapiro, and a coalition of 20 other Dem AGs, sent

letters

to the nation's three largest credit reporting agencies – Experian, Equifax and Transunion – reminding the companies of their obligation to comply with consumer relief provisions in the CARES Act during the coronavirus pandemic.
PROTECTING RENTERS FROM EVICTIONS
As millions of renters face challenging financial times, Democratic AGs continue to protect them from wrongful or illegal convictions.
Princeton's Eviction Lab scorecard

indicated

that 14 of the top 15 states protecting renters have a Democratic AG.

Minnesota AG Keith Ellison

was on MSNBC's AMJoy recently to share how Democratic AGs are taking action to protect people from losing their homes. AG Ellison took an additional step and

sued

a landlord to ensure people did not lose their homes.
PROTECTING SMALL BUSINESSES
Small businesses are losing out on much needed funds from the Paycheck Protection Program that could be the difference between their business staying afloat and closing their doors. Democratic AGs are providing resources to make it easier for small business to access needed assistance. Massachusetts AG Healey launched an online assistance page for small businesses that hosts information on available grants, loans, free legal assistance as well as guidance on insurance coverage, rent abatements, options to cut expenses, and mortgage relief.
PROTECTING IMMIGRANTS
Democratic AGs are taking action to delay the Trump administration's attempt to implement a discriminatory "public charge" rule that would significantly harm immigrant communities during this pandemic. New York AG Tish James filed a motion to temporarily halt the "public charge" rule, noting that the rule would only exacerbate the crisis and put communities in harm's way.
SAYING THANK YOU
Ahead of International Workers' Day, DAGA released a new video featuring Democratic AGs from across the country thanking essential workers on the frontlines of the COVID-19 response. The video also highlights the coalition's commitment to fighting for protections and resources for these essential workers.
"To the people who are putting their lives on the line to help our families and communities battle this global health crisis: thank you," said Sean Rankin, Executive Director for the Democratic Attorneys General Association. "Democratic AGs have a clear track record of fighting for workers' rights, and this crisis highlights the need to ensure protections for workers no matter the situation. Democratic AGs will keep fighting for the resources and protections our frontline workers need to do their jobs, especially under these dangerous conditions."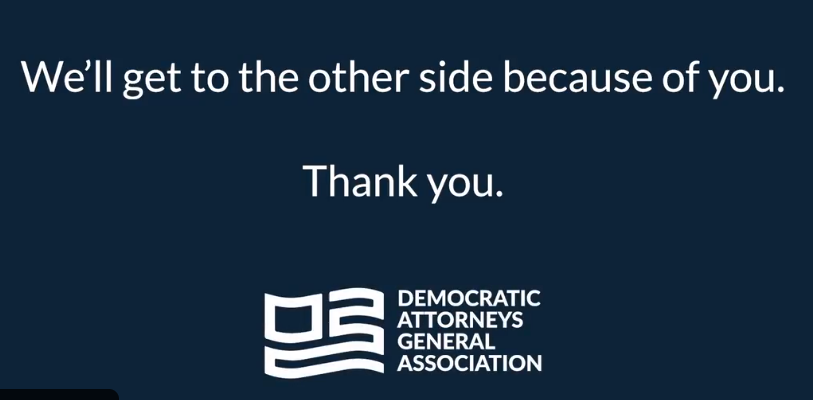 The actions above are just a snapshot of the incredible work Dem AGs are doing to keep our families and communities safe. In addition to the highlights above, Dem AGs are:
Providing guidance to government agencies on how to address Open Meeting Acts & Sunshine Laws in this new environment;

Pushing large corporations to provide paid family leave;

Advocating for a pause in eviction proceedings;

Urging utility companies to postpone late payment fees and service shut-offs;

Fighting against hate crimes and discrimination against the Asian American and Pacific Islander populations;

Working with the courts and the criminal justice system to guarantee both justice and fairness through the courts during this emergency.
For more on Democratic AG leadership during this challenging time, check out the previous updates here:
And be sure to follow along on DAGA's social media accounts linked here: Facebook, Twitter, and Instagram.